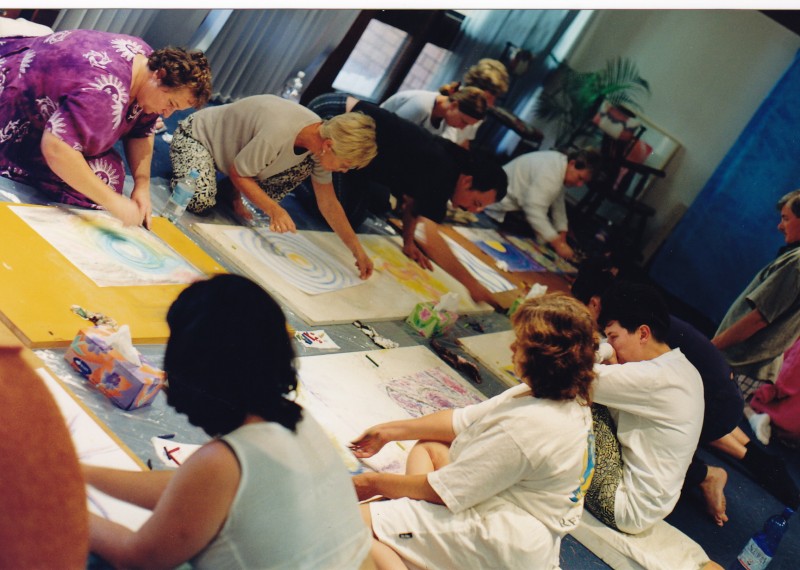 The goal of Vision/Art Workshops is to serve two distinct but related purposes: to facilitate a focused experience of the creative process of art making; and to guide participants towards a profound experience of the energy body.
It is no co-incidence that spiritual systems deploy the visual arts both to instruct and to record spiritual practices –  the connection between art making and inner vision is well documented in the literature.
This is because making images of inner perceptions, in a controlled environment with an experienced teacher, can facilitate huge shifts in consciousness of 'self' (AM-ness, I-ness)
In spiritual systems energy =consciousness. A personal vision of the energy body will invariably be the catalyst for profound changes in self-consciousness – and a consequent affect on behavioral patterns.
If you would like to arrange a Vision/Art Workshop please contact Janis using the Contact form.
Minimum number 8 people, maximum number 12 people. The workshop may be one full day or spread over two full days. The workshop is based on guided meditations, and will be tailored to suit the specific needs of the participants. I have taught these classes since 1998 to a wide selection of people from diverse cultural backgrounds,  aged 18 to 80.
Cost is per person, and payable 2 weeks in advance. No art experience necessary. Minimum equipment required (sheets of A2 paper & a dozen soft chalk pastels plus a stick of charcoal). Mobiles must be switched off for the day.
There is a small selection of works by students on this website  – the subjects cover subtle anatomy, energy blocks, connections, and other personal experiences. They are not listed in any particular order, but give an indication of the kind of work the students produce.