Janis Lander Ph.D, Dip.Art, is an artist, writer and teacher, and is known for her published works in the visual arts; and on the theory and practice of the spiritual in art education.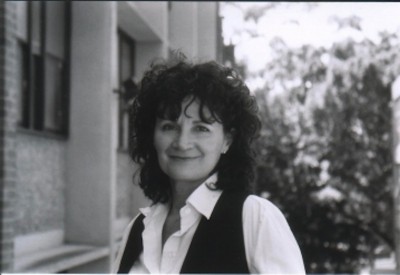 Education
Doctor of Philosophy – School of Art Education, College of Fine Arts, University of New South Wales, 2012.
Master of Art & Design Education – College of Fine Arts, University of New South Wales, 2002
Diploma of Painting, Julian Ashton Art School, 1990
Bachelor of Arts, Sydney University 1973.
Certificate 4 in Assessment & Training, 2000
What is Spiritual Art?
Art is often described as possessing 'spiritual qualities'. But spiritual art proper is tied to protocols of spiritual practices. Art is used to teach these practices, to record states of consciousness and flows of energy. Such art emerges as a global language, allowing practitioners in different cultures to communicate. Such art communicates to us across millennia, conveying information about that aspect of ourselves that transcends time, and place, and gender, and culture.
What are Vision/Art Workshops?
Since 1998 I have taught Vision/Art Workshops, a unique process using a strategic combination of meditation practices with art practices. The goal of these workshops is to serve two distinct but related purposes – to give participants an experience of the creative process, and to permit a profound experience of the energy body.
It is no co-incidence that spiritual systems deploy the visual arts both to instruct and to record spiritual practices; the connection between art making and inner vision is well documented in the literature. In spiritual systems energy = consciousness, and a personal vision of the energy body will invariably be the catalyst for profound changes in self-knowledge and, by extension, in behavioural patterns.
The practice of making images of inner perceptions, in a controlled environment with an experience teacher, can facilitate huge shifts in consciousness. Consciousness begins with consciousness of 'self'.
Contemporary views on living spirituality entail an expectation that such knowledge will have a measurable affect on the world. When the experience of self expands – or explodes – to include everything, even just for one long moment, then this experience changes the way we view ourselves, and relate to the world, and to each other, and to all living things.
Therefore it is in everyone's interest that spiritual self-knowledge be cultivated. And what better way than by making art?
Research

My research is in the domain of contemporary spiritual systems, where 'spirit' is defined as a discreet layer of consciousness and simultaneously a discreet layer of energy. This secular definition of "the spiritual" makes a distinction between the inclusive and secular nature of the spiritual and the exclusive and culturally specific nature of organized religions.
Meditation practices taught in spiritual systems assist the meditator to have a personal experience of these layers of the 'self'. The idea that 'the spirit' comprises a discreet and subtle structure of energy and consciousness within the human energy complex, suggests that 'the spirit' is present in all human beings as an energetic structure, and present as a state of consciousness accessible through strategic practices. This theory reinforces a contemporary presentation of spirituality as a unifying characteristic of our species, with culturally specific expressions.
In 2012 I completed a Doctoral Thesis at the College of Fine Arts, University of New South Wales, Australia. The thesis title was: "A Discursive Study of Art and Education in Contemporary Spiritual Systems". The thesis is available through the UNSW library.
In 2013 I signed with Routledge / Taylor & Francis Books in New York to write a book based on my research titled "Spiritual Art & Art Education" – part of the Routledge Advances in Art and Visual Studies Series. Published in the USA December 2013, in the UK January 2014.
At present the book is in the library collections of Oxford University, Cambridge University, the British Library, Trinity College Dublin, National Library Scotland, Harvard Library, Library of Congress, The National Library Australia, State Library Victoria, State Library NSW, Sydney University, University of New South Wales, and other libraries – I do not have a full list. Please do ask your own librarian to order a copy. AMAZON AU is offering a paperback edition.
Copies may be ordered/purchased at Amazon.com or at Routledge.com:
http://www.routledge.com/books/series/RAVS/
Art and Philosophy of the Spirit
In March 2020 Atropos Press (Dresden/New York) published my book Art and Philosophy of the Spirit, based on the lecture series offered at CCE, and the students' questions. Because of Covid Lockdowns we have not been able to have a book launch – however… watch this space.
Copies are available at New South Wales Library in Sydney and the National Library in Canberra.
Copies may be purchased at:
https://books.google.com.au/books/about/Art_and_Philosophy_of_Spirit.html?id=GmFgzQEACAAJ&redir_esc=y
https://www.amazon.com/gp/product/1940813336/ref=dbs_a_def_rwt_bibl_vppi_i1
Lectures
Since 2014 I have been a sessional lecturer at the Centre for Continuing Education, Sydney University , the course is titled "Art & Philosophy of the Spirit". "This unique course offers an in-depth analysis of contemporary concepts and practices – a fascinating marriage of ontology (theories of being) and aesthetics (theories of art)."
Future Lecture Series will be held at CCE/Sydney University – see CCE website
Academic Conferences
2017 – AASR Conference, "Religious Diversity in a Changing World", Institute for Ethics and Society, University of Notre Dame, Sydney.
2015 – ACU Conference, "Grounding the Spirit in Art and Literature", Sydney.
2014 – NAEA Conference, (National Art Educators Association), San Diego, California
2011- NIEA Conference, College of Fine Arts, University of New South Wales
2007 – ILIRI Symposium, "Imaging the Land", College of Fine Arts, University of New South Wales
2006 – Departmental Colloquium, "Decoding the visual language of spiritual art", Sydney University, convener Dr Edward Crangle.
Janis Lander – Artist

I am available for all kinds of commissions in portraiture, landscape and other figurative work. In particular, I have created many 'Energy Portraits' for fellow meditators.
For a full catalogue of my Art, and exhibition history, please check out the website – janislander.com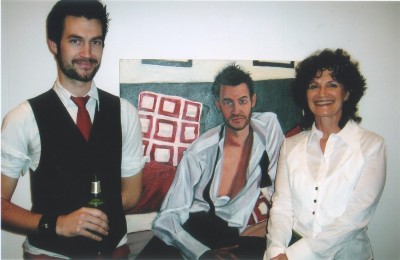 Janis with designer James Browne and her portrait of him, at the opening of the Doug Moran National Portrait Prize.